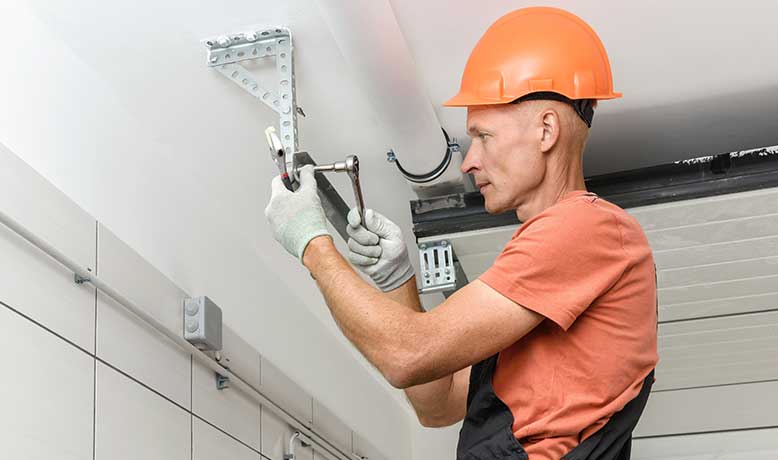 Efficient Garage Door Cable Repair Plano TX
Even though garage cables are generally substantial, wear and tear can cause them to snap. Although significant problems with the garage door are often identified, the Cable Repair is often overlooked. A broken garage door cable can cause severe problems with the door's operation. We will save you from such issues because we are known for providing the best garage door cable repair Plano TX at fair prices.
Trained professionals for Garage door cable repair
A damaged cable can trigger various issues, ranging from difficulties in opening and closing the garage door to the garage door falling off. Our technicians at Core Garage Door are qualified to ensure that no cable-related problem detracts from your day.
Call us right away if you need garage door cable repair in Plano TX. The benefits of our services include:
24/7 customer services
Scheduled inspection
Affordable prices and no hidden charges
Reliable Garage Door Cable Repair in Plano TX
Garage door cables play a crucial role as they increase the safety of your garage door by controlling the door from recklessly swinging in case the springs break. Over time, springs worn out and the cables keep the garage door balanced. No matter its strength, cables also wear and tear and as they age, they eventually snap. Rust and fraying also cause broken cables and this serious problem requires a call to Core Garage Door.
No one does garage door cable repair in Plano TX better than our professional technicians who have a few years of experience under their belts. We take pride in our outstanding customer service, installation, and repair services. Let us know how we can help you and join our long list of happy clients.
What Is a Garage Door Cable Drum?
A garage cable door drum is an important component of your garage door system. They are the wheels that wind the cables that make lifting a heavy garage door seamless and easier. Like other parts of a garage door, the drums must be regularly and properly maintained as they are always under great tension, otherwise, they may start to get worn down and can become a safety threat for everyone in the home. When there is visible garage door drum damage, this is a red flag that warrants the sound knowledge and skills of expert repair technicians.
Making the Necessary Repairs
Standard-Lift Garage Door Cable Drums
For the most part, standard-lift cable drums are basically flat in most portions but approaching the outside of the door, the grooves of the cable drum are raised to some degree to maintain the balance of the garage door as it opens.  This type of cable drums come in 4″, 5-1/4″ and 8″ diameters. Each cable drum has another number (in either inches or feet) linked with it which resembles the drum's cable capacity. 
Vertical-Lift Garage Door Cable Drums
Vertical-lift garage door cable drums are bigger than standard-lift garage door cable drums. When the garage door opens, the vertical-lift cable comes closer to the shaft and when it is closed, the cable is more distant from the shaft.  It comes in 8-1/2″, 11″ and 13-1/2″ diameters and each cable drum has another number (in either inches or feet) embossed with it that corresponds to the drum cable's capacity. 
High-Lift Garage Door Cable Drums
High-lift garage door cable drums have both a raised part like the vertical-lift drums and a flat part like the standard-lift drums.  The cable runs on the raised part while the garage door opens vertically then shifts to the flat portion when the door starts to run on the horizontal track.  These cable drums come in 4″, 5-1/2″, 5-3/4″, 6-3/8″, and 8″ diameters for the flat part.  Just like the vertical-lift and standard-lift cable drums, the high-lift cable drum has another number associated with it in either inches or feet which corresponds to the drum's cable capacity.
Garage Door Cable Drum Repair
Be mindful of red flags when it comes to your garage door cable drum. When your door is hanging from one side or if it opens and closes improperly, these are strong indications the garage door opener cables are disconnected. Note that garage door cables are responsible for maintaining the pressure of the door to ensure the door's efficient function. As such, proper maintenance is highly recommended and when repairs are necessary, trust only the experienced technicians. Here at Core Garage Door, we are proficient in handling all makes and models of garage doors and their different parts and components. From the basic to the most complex issues, we are the best team you can rely on to safely and properly carry out the job.
When you encounter broken garage door cables or drums, it is important to stay away from the garage door and never attempt to touch and cut the cables or drums. Your safest and best action is to give us a ring immediately. Repairing the garage door cable drums on your own can be dangerous to you and may even incur expensive damages. With us, we can make the right diagnosis and accurate repairs in just a matter of time.
Garage Door Cable Drum Replacement
Regular and careful inspection of garage door systems are strongly encouraged to detect signs of damage like cracks or if the drum appears to be warped. If the cable drum shows hints of weakness or failure, it's important to get them replaced as soon as possible because broken drums can cause extreme damage to the garage door and its other components.
We understand the significant role of your garage door system and we are dedicated to provide high-quality garage door cable drum replacement and install them with caution and expertise. To learn more about our residential, commercial, and industrial garage door services, dial (469) 880-4621 now to get started!